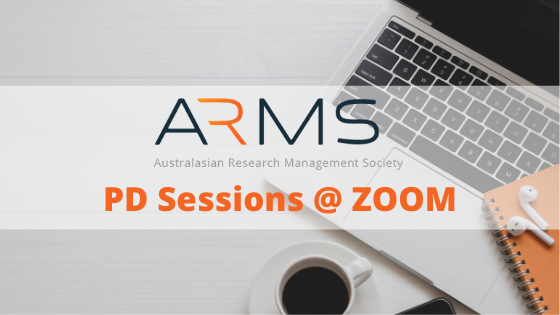 PD Sessions @ Zoom are scheduled between 12 pm and 1 pm AEST
(AEDT October- April) unless noted.
All ARMS members are encouraged to attend any sessions. Accredited members will automatically be credited 1 CPD hour per session.
The sessions are free of charge to all ARMS members, non-members can register to attend these sessions for $50.00.
More information on each session, including registration and Zoom log-in details, will be sent to ARMS members at least two weeks prior to each event and posted as an event on the ARMS events page.
We hope you can join us for the upcoming PD Sessions @ Zoom series!
Please send any queries about these sessions to the ARMS Executive Office:
arms.adminofficer@flinders.edu.au
PD Sessions @ Zoom Schedule for 2021
Please note this schedule is subject to change
---
PD Sessions @ Zoom: VIC Chapter
August 30th - Monday
Please note that this session is being delivered from 1 to 2 pm AEST.
Session: Universities Australia's plans and visions for research in the higher education.
Presenter: Professor John Dewar, Universities Australia
---
PD Sessions @ Zoom: QLD, NT Chapter
October 6th - Wednesday
Session: Managing burnout is everyone's responsibility - Contributing factors, comparisons with other professions and possible actions. 
Presenters: Janice Besch and Dr Bryony Wakefield, The University of Melbourne.
---
PD Sessions @ Zoom: Res. Impact SIG
November 17th - Wednesday 
Session: How to build a research culture where researchers engage with industry, policy makers and communities?
Presenters: TBC
---
PD Sessions @ Zoom: VIC Chapter
December 8th - Wednesday 
Session: i-ethics: The what, why, with who and how of co-designing a digital Research Ethics Platform
Presenter: Anita Arndt