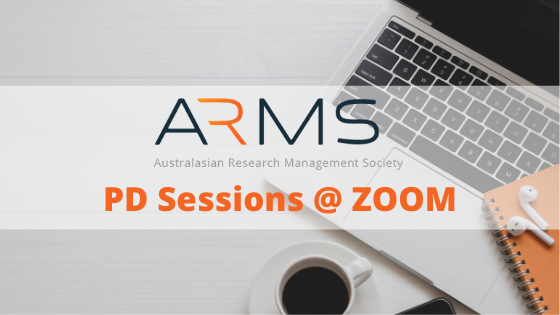 Please note that the following PD Sessions @ Zoom are for 2020 are provided below.
All ARMS members are encouraged to attend any sessions. Accredited members will automatically be credited 1 CPD hour per session.
The sessions are free of charge to all ARMS members, non-members can register to attend these sessions for $50.00.
 More information on each session, including registration and Zoom log-in details, will be sent to ARMS members at least two weeks prior to each event and posted as an event on the ARMS events page.
PD Sessions @ Zoom are scheduled between 12 pm and 1 pm AEST
(AEDT October to April) unless noted.
We hope you can join us for the upcoming PD Sessions @ Zoom series!
Please send any queries about these sessions to the ARMS Executive Office:
arms.adminofficer@flinders.edu.au
---
Our Identity: Research Management as a Profession in a Global Context - NOW POSTPONED TO 2021
Hosted by ARMS VIC Chapter
Presenter - Dr Bryony Wakefield
The aim of the webinar is to share insights and analysis on research management as a profession.
Dr Wakefield is the Tasforce member of the INORMS Research Administration as A Profession Worldwide Survey; Director, Research Development for the Faculty of Medicine, Dentistry and Health Services at the University of Melbourne 
---
The Unique Contribution of Te Ao Māori: An Overview of New Zealand's Vision Mātauranga Policy Framework NOW POSTPONED TO 2021

Hosted by ARMS
Presenter - Ms Gabrielle Hine
 
Vision Mātauranga: Unlocking the Innovation Potential of Maori Knowledge, Resources and People is a policy framework implemented by the New Zealand government in 2005. The framework was designed to assist research funders and researchers in integrating and embedding Te Ao Māori ("the Māori world") into research processes, design and implementation. The policy responds to and recognises the unique contribution of Mātauranga Māori (the indigenous knowledge of Māori) and has been more recently integrated into the application processes of the three major government contestable funding bodies. The expectation that underpins these funding bodies – and all New Zealand government research investment – is that research acknowledges the potential contribution of Mātauranga Māori in two ways: first, by demonstrating a clear process of meaningful engagement with Māori peoples, communities, iwi and organisations, amongst others; and second, by considering the distinctive contribution that Māori ways of doing, being and thinking can make to the research design, methodology and outcomes.  
This presentation draws on my own experiences to offer a case-study of the Vision Mātauranga policy within research funding. First, it will offer an overview of the key challenges that researchers have commonly faced in responding to the themes and values of the policy. Second, it will explore how researchers have sought to address these challenges – and the questions and uncertainties that then arose. Last, it will offer insight into how we can begin to better respond to these challenges at an institutional level to ensure the policy – and all it represents - is meaningfully supported.
---
PAST 2020 PD SESSIONS
Mental Health and Relation Safety in a COVID-19 World
Presenter - Nicholas Procter, RN MBA PhD. Nicholas is Chair: Mental Health Nursing and leader of UniSA's Mental Health and Suicide Prevention Research Group
THURSDAY 9 APRIL 2020, 12 - 1 pm AEST
This webinar will discuss and consider the mental health impacts of COVID-19 pandemic taking particular account practical steps to look after individual mental health and wellbeing. Emphasis will be given to navigating expert advice and current resources available for people who find the situation challenging. The webinar will also consider the importance of staying connected to others, working from home, calibrating media exposure, and ask for help during difficult times.
---
Bibliometrics for Research Management and Evaluation
Hosted by ARMS SA Chapter
Presenter - Adam Finch, Manager of Science Performance Analytics at CSIRO.
TUESDAY 28 APRIL 2020, 12 - 1 pm AEST
Adam Finch is an Analyst in Science Strategy & Investment at CSIRO. He has extensive experience in deploying publication analysis to demonstrate and evaluate the academic impact of an organisation's research.
The session will provide an overview of how bibliometric data can support research management and evaluation activities in order to explore an organisation's research strengths, opportunities and challenges.
---
SMART Work at Home
Hosted by ARMS 
Presenter - Sharon Parker
TUESDAY 5 MAY 2020, 12 pm - 1 pm AEST
Sharon K. Parker is an ARC Laureate Fellow, Director of the Centre for Transformative Work Design at Curtin University, a Professor of Organizational Behavior at the Curtin Faculty of Business and Law, an Honorary fellow at the University of Western Australia, and an Honorary Professor at the University of Sheffield where she was previously Director at the Institute of Work Psychology. She is a recipient of the ARC's Kathleen Fitzpatrick Award, and the Academy of Management OB Division Mentoring Award. Her research focuses particularly on job and work design, and she is also interested in employee performance and development, especially their proactive behaviour.
---
The Upside of COVID-19 - Flipping our Midsets Away from 'Crisis & Challenges' to 'Adaption & Opportunity'
Hosted by ARMS
Presenter - Andy Lamb
Co-Hosts - Ash Roberts and Tara McLaren
THURSDAY 7 MAY 2020, 12 pm - 1 pm AEST
Attend this session for a change in outlook and techniques to leverage the impact of this global crisis to improve the way you work. Andy will help you be even more responsive to evolving opportunities in research management, and continue to be an important part of the call to action to bring global human problems to the surface, along with deep research collaborations crucial to finding solutions.
---
Future Research Management Leaders Webinar
Hosted by ARMS 
Facilitator - Mr Steve Hannan from the University of Newcastle
Panel: Professor Zee Upton, Dr Campbell Thomson, Dr Maxine Bryant, Dr Alistair Duncan
WEDNESDAY 13 MAY 2020 , 12 - 1 pm AEST
This panel discussion will hear from new and established leaders in Research Management to provide insights for the next generation of Research Management leaders.  The session will explore how their career paths developed, how they deal with the pressures and breadth of their role, how they bring value to the researchers they support and what advice they would have for the next generation of leaders.
---
Shaking Hands with Uncle Sam: A Journey to Increase US Funding
Hosted by ARMS ACT Chapter
Presenter - Paul Harris, Director of ANU, North American Liaison Office; Marie-Helen Rousseau, Manager of ANU, Research Funding and Development Office and David Sprinkle, ANU, Research Coordinator, Research Funding and Development Office
TUESDAY 2 JUNE 2020, 11 am - 12 pm AEST
Paul Harris is the Director of the ANU North American Liaison Office since August 2017. He was Counsellor (Education and Science) at the Australian Embassy in Tokyo in 2014-17 and before that was Deputy Director of the HC Coombs Policy Forum in the ANU Crawford School of Public Policy. Facilitates the development of research and education partnerships in North America.    Marie-Helene Rousseau is currently the manager of the Research Funding and Development Office at the Australian National University, Canberra. She is in charge of coordinating large scale research funding schemes, managing targeted funding opportunities and implementing an university-wide training program in research management. Recently, she was awarded the 2019/2020 ARMS-NCURA Fellowship to visit the University of Maryland, US in 2020.   David Sprinkle is responsible for advising ANU Senior Executive on US funding opportunities and managing the current US research funding portfolio. Prior to joining the ANU, David spent 6 years in the Australian Public Service including working at the Australian Research Council. 
---
'Everyone' is Declaring a Climate Emergency: What Can We Do?
Hosted by ARMS Member
Presenter - Dr Simon Kerr (La Trobe) with climate resilience expert A/Prof Lauren Rickards (RMIT) 
WEDNESDAY 17 JUNE 2020, 12-1pm AEST
The session is hosted by Dr Simon Kerr with special guest expert, climate resilience researcher A/Prof Lauren Rickards.  Lauren a co-leader of the Climate Change and Resilience research program of the Centre for Urban Research, and teaches in the School of Global, Urban and Social Studies, at RMIT. She is a contributing author to the 2014 Intergovernmental Panel on Climate Change (IPCC) Working Group Two Report on Impacts, Adaptation and Vulnerability and has a background in human geography and ecology. Simon, a former ARMS president, tries to work 'part-time' in the La Trobe Research Office, is an Honorary Research Fellow in the La Trobe School of Humanities and Social Sciences, has a PhD in Political Ecology and is producer of the multimedia immersive project Music for a Warming World.
---
Removing the Anxiety Around Indigenous Engagement and Conversations
Hosted by ARMS NZ/Pacific Island Chapter
Presenter - Ms Jaylene Wehipeihana, University of Auckland and Dr Faith Welch, University of Auckland 
TUESDAY 14 JULY 2020, 12 - 1 pm AEST
Jaylene is a research management professional having worked in the Government sector for over six years, predominantly in indigenous health research. Working within the Faculty of Science she supports the growth of the faculty's external research income. Jaylene is a member of the University's Vision Mātauranga Working Group and leads the development of Vision Mātauranga and Indigenous Engagement for research support professionals at the University.
Faith has over eight years' experience working in research impact-related roles in the UK and New Zealand. She has worked in business engagement at one of the seven UK Research Councils, as a Knowledge Exchange Associate at the University of Bristol and is currently the first Research Impact Manager at the University of Auckland. Faith is also one of the founding convenors of the ARMS Research Impact Special Interest Group. Faith has a passion for growing impact literacy and mobilising a positive impact culture within Australasia.
---
Fifty shades of Edpidermis: Diversity beyond gender
Hosted by ARMS Board
Presenters - Ms Yuen Chang, Murdoch Children's Research Institute and Tania Tambiah, RMIT
MONDAY 3 AUGUST 2020, 12-1pm AEST
Yuen and Tania are women of colour seeking to address the under-representation and non-recognition of culturally and linguistically diverse peoples in research and research management sectors. The field of research management is integral to sustaining and advancing scientific investigation and innovation, and one cannot downplay or ignore the role that the research management community can play in addressing gender and cultural imbalances in these sectors. The authors are deeply committed to the profession of research management and its specialists, and through this work, are endeavouring to promote collaborative actions that embrace all aspects of diversity, creating a community that values and maximises the technical, cultural and professional benefits of diverse perspectives.
 
Yuen is a Business Development Manager with the Murdoch Children's Research Institute, and Tania is the Research & Innovation Business Partner for at the College of Business & Law, RMIT University.
---
Writing a Strong Job Application for the Research Administrator Sector
Hosted by ARMS TAS Chapter
Presenter - Dr Regina Magierowski
WEDNESDAY 26 AUGUST 2020, 12 - 1pm AEST
Dr Regina Magierowski is the Associate Director (Research Performance and Analysis) at the University of Tasmania. To facilitate her move from academia to research administration she invested in a $20 word template to 'jazz' up her application.
The template did the job despite the Italian spellchecker (trap for young players) and she's used it with success a few times more since then. Regina will share tricks to getting your next application noticed and a tips on how to really focus your application on the things that matter.
---
Mental Health Management for Research Administrators and Managers
Hosted by Health and Medical Research Special Interest Group
Presenter - Dr Denise Riordan
THURSDAY 10 SEPTEMBER 2020, 12 - 1 pm AEST
Ordinarily members of ARMS execute many roles in supporting research, whether it be the management of grant cycles, IP and contracts, student engagement experiences, impact reporting or one of the many other areas of research management. Most of our members are based in universities, government bodies and research institutions and there is a growing cohort in health and medical sphere.
In providing comprehensive support to students and researchers, research managers and administrators are exposed to the stresses of their stakeholders as well as their own work and life stresses. Maintaining a good work life balance at certain times of the year seems near impossible for some. In the current era of Covid-19 and all the curveballs it is throwing up, we need as a group to be able to be strong mentally in order to provide a quality service to our stakeholders, while looking after ourselves.
This webinar will provide insight in to how we can look after ourselves and others? What resources/strategies are available to support us? What skills do we and will we need to learn as we chart our way into unknown territory?
---
Australia 2030! - How do we feel about the decade ahead?
Hosted by ARMS WA Chapter
Presenter - Mr Rocky Scopelliti
MONDAY 21 SEPTEMBER 2020, 12 - 1pm AEST
Rocky Scopelliti is a world-renowned futurologist. His pioneering behavioural economics research on the confluence of demographic change associated with Millennials, and digital technology, have influenced the way we think about our social, cultural, economic and technological future. His new book 'Youthquake 4.0 - A Whole Generation and the New Industrial Revolution' was launched in September 2018.
---
"Grantsmanship on a Shoestring: a Time-Efficient Approach"
Hosted by ARMS NSW Chapter
Presenter -  Dr Thorsten Kostulski and Dr James Walsh, UTS Research Capability and Development Team 
TUESDAY 13 OCTOBER 2020, 12 - 1 pm AEDT
This PD@Zoom session outlines the background,  structure and content of a UTS 'grantsmanship' training program offered in 2019 to upskill and motivate a diverse group of central and faculty-based research support staff. A recent period of research support audits and reviews has seen UTS transition to a more distributed research support model, driven by the fast growth of research activities across the university. Faculties are beginning to share more ownership of research support services, and cross-unit collaboration on key initiatives (such as major grants rounds) is increasing. However, sound grantsmanship expertise remained restricted to a handful of individuals, and an urgent need was identified to develop a new, 'out-of-the-box' approach to building grantsmanship capability.
Typically, new staff working in grants support tend to be trained in technical proposal 'compliance' checks at first, for a particular funding scheme. We turned this approach on its head, focusing instead on introducing the cohort to high-level, abstract concepts and considerations relevant to the strategic review of a range of research funding proposals. Short, subsequent workshops specific to certain schemes enabled staff to easily adapt their knowledge by drawing on broader grantsmanship concepts.  Due to the success of the workshop series we expect it to become an annual staple in the UTS professional development calendar and may have potential for wider adoption into ARMS professional development training and for other universities considering an evolved research support model.
---
Paradox, dilemma & uncertainty: shaping an 'academic me' in a performance-driven research world

Hosted by ARMS Board
Presenter - Dr Joanna Cobley
TUESDAY 22 OCTOBER 2020, 12 - 1pm AEST
This paper explores the concept of academic identity in research; more specifically the perceived tensions between researcher autonomy and the need for serendipity balanced against the requirement to perform within national assessment frameworks. Structured around themes of paradox, dilemma and uncertainty this paper addresses three important questions (i) how national assessment frameworks drive researcher development (ii) finding evidence to demonstrate how researcher development develops researchers, and (iii) finding creative strategies to engage researchers in development.
Paradox concerns the tensions that underpin the language of research assessment frameworks that reward and measure both performance and quality. Dilemma relates to the influence of national assessment frameworks on research cultures. Uncertainty is focused on the relationship between research assessment outcomes and impacts both now and in the future. I present a number of initiatives under development at the University of Canterbury, which includes engaging a community of mentors, to help researchers plan and understand their role within the New Zealand assessment framework (e.g. PBRF). These ideas have broader applications to other researcher developers as engagement is a vital component to shaping academic identity.
---
Pushing on Through the Pandemic: The Challenges, Successes and Strategies of Regional Universities
Hosted by ARMS QLD/NT/PNG Chapter
Panel presenters: Prof Susan Kinnear, Dr Andrew Johnson, A/Prof Jason White and Dr Steven Rogers.
Facilitated by: Dr Sarah Wright
WEDNESDAY 28 OCTOBER 1PM-2PM AEDT.
This panel session will focus on the effects of the global COVID-19 pandemic on Australian regional universities, and their experiences around creating resilience and growing success in response to the unprecedented challenges faced.
The panel discussion will focus on:
• Different experiences
• Research beyond the borders – how to manage multiple campuses in different States
• Accelerating online research management processes
• Navigating challenges faced by HDR students
• Beyond 2020 – mechanisms to ensure ECRs/MCRs (particularly primary caregivers) are not disadvantaged now and in the future
Attendees will be encouraged to submit questions for the panel. Dr Sarah Wright, Manager (Research Infrastructure) at the University of Southern Queensland will facilitate the session.