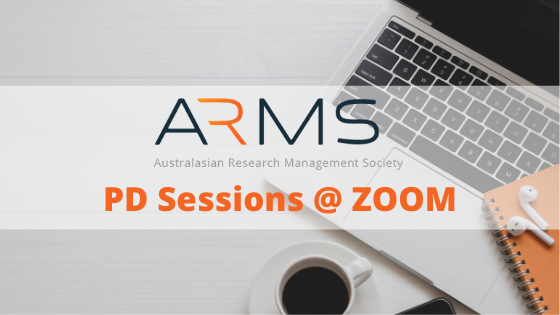 PD Sessions @ Zoom are scheduled between 12 pm and 1 pm AEDT (October - March)
(AEST April - September) unless noted.
All ARMS members are encouraged to attend any sessions. Accredited members will automatically be credited 1 CPD hour per session.
The sessions are free of charge to all ARMS members, non-members can register to attend these sessions for $50.00.
More information on each session, including registration and Zoom log-in details, will be sent to ARMS members at least two weeks prior to each event and posted as an event on the ARMS events page.
We hope you can join us for the upcoming PD Sessions @ Zoom series!
Please send any queries about these sessions to the ARMS Executive Office:  arms.adminofficer@flinders.edu.au
PD Sessions @ Zoom Schedule for 2021
Please note this schedule is subject to change
---
PD Sessions @ Zoom: National Foundation for Medical Research and Innovation (NFMRI)
October 27th - Wednesday
Session: Supporting research across the 'valley of death': NFMRI's strategy impact results
Presenters: Dr Noel Chambers, CEO NFMRI, Dr Katherine Jackman, Brandon Capital Partners and A/Prof Peter van Wijngaarden, Centre for Eye Research Australia

Facilitator: Dr Ross McLennan, President Australasisan Research Managment Society (ARMS)
---
PD Sessions @ Zoom: Res. Impact SIG
Proudly Sponsored by F1 Solutions
November 17th - Wednesday
Session: How to build a research culture where researchers engage with industry, policy makers and communities?
Presenters: Dr Faith Welch, University of Auckland, Professor Lauren Rickards, RMIT, A/Prof Wendy Steele, RMIT, Dr Olga Kokshagina, RMIT and Ms Lia Sherwood, University of Wollongong

Facilitator: Dr Tamika Heiden, Research Impact Academy
---
PD Sessions @ Zoom: VIC Chapter
December 8th - Wednesday
Session: i-ethics: The what, why, with, who and how of co-designing a digital Research Ethics Platform
Presenters: Anita Arndt, RMIT, Vivienne Moyle, RMIT