EXPRESSIONS OF INTEREST TO JOIN THE 2023 "IN-PERSON" ARMS CONFERENCE ORGANISING AND PROGRAM COMMITTEES
Yes, you read correctly, ARMS will be delivering its flagship event "in-person"
in Sydney, Australia in 2023! 
This will be our first major "in-person" research management event since the pandemic and we cannot wait to get our vibrant community gathered again to learn from one another, to share ideas and to network!
Expressions of Interest are currently being sought from across the broad remit of ARMS including Australian, NZ/Pacific and Singapore to serve on either the Organising or Program Committees for the 2023 event.  There are many ways to get involved, including volunteering to become:
A Co-Convenor. For this event two Co-Convenors are typically appointed and will work with the ARMS Executive Office to ensure delivery of all aspects of the conference including program development, planning, logistics, liaison, sponsorships, etc.
A member of the Organising Committee. You will work with the Co-Convenors to support the delivery of all aspect of the conference including planning, logistics, liaison, sponsorship etc.  Members from the NSW region are encouraged to apply as local knowledge is an advantage.
A member of the Program Organising Committee. In this role, you will be working with a committee responsible for developing the conference program and ensuring a unique, inspiring and diverse range of local and international speakers are identified with new and insightful topics that tie in with the overall conference theme.  This opportunity will be open to all ARMS members.
NOTE: Membership to each committee shall be capped.  All Committee meetings will be via Zoom and held monthly initially and will increase closer to the conference.  
Interested?
If you are a current financial member of ARMS and have the commitment and drive to contribute to committee meetings and related activities, please register your interest by completing the EOI and return to: ARMSEvents@researchmanagement.org.au by no later than Friday 27 May 2022 
Click here to download the EOI.
ARMS-CASE 2022 VIRTUAL CONFERENCE: REGISTRATIONS NOW OPEN!
The Australasian Research Management Society (ARMS) and the Council for Advancement and Support of Education (CASE) are presenting a two day virtual conference detailing how Research Offices and Advancement Offices can build on one another's strengths to navigate multi-partner initiatives and scale an initial investment into a significant institution-wide funding initiative. In its second year, this event will benefit mid-career to senior level leaders managing research and philanthropy (or both), Research Office and Advancement Office staff, College and Departmental staff responsible for attracting research funding, and Development Officers across research-driven organisations.
This years theme is: 
A partner's perspective of best practice in harnessing the power of public-private partnerships
We are offering various registration types for this year's conference. These categories include full member, non-member, day only, and institutional rates.
*Please note all prices are listed in AUD, and GST inclusive.
Click here to register.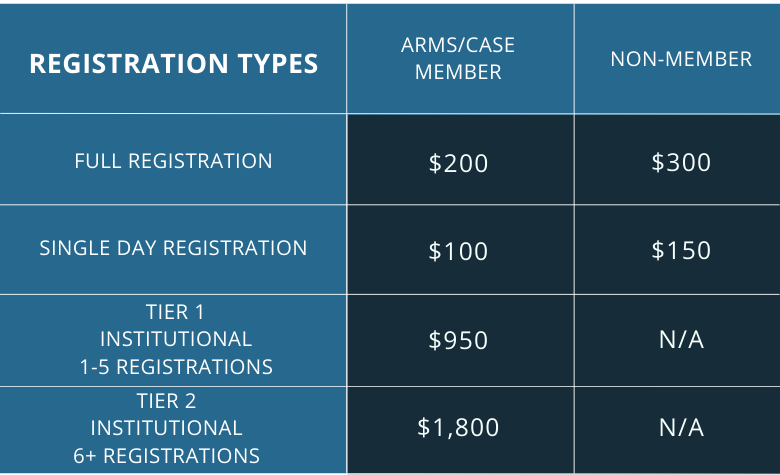 ARMS 2022 VIRTUAL CONFERENCE: REGISTRATIONS NOW OPEN!

REGISTRATIONS NOW OPEN!
ARMS is pleased to announce that the registration portal is now officially open with a range of registration types to suit your requirements and varying budgets.   
This year's conference will adopt a slightly hybrid model, kick starting the event with a long overdue in-person Welcome Reception on Tuesday, the 6th of September to enable you to share a casual drink and a canape or two with your peers in your region.  Welcome Reception events will be offered across most Chapter locations (details tbc).  The Welcome Reception will then be followed by a three-day online event with all the typical conference features.  To find out more about the Welcome Reception, please visit the website.
For any queries please email ARMSEvents@researchmanagement.org.au or ARMSAdmin@researchmanagement.org.au
This is ARMS' premier research management event for the year that should not be missed. 
Click here to register.
CALL FOR ABSTRACTS!
Want to actively contribute to this year's conference program? Then why not consider submitting an abstract!
Abstract presentations are a great way to network and to show case all of the innovative things you and your colleagues have done in this space. Abstracts are invited from across a broad range of sub-themes including research priorities; research funding challenges and opportunities; research workforce; and research infrastructure.  Don't miss out on this professional development opportunity!
For more information on how to submit an abstract for the conference please click on the button below.
Click here for more information.
ARMS CONFERENCE PROGRAM ORGANISING COMMITTEE 2022
Welcome to our 2022 ARMS Conference Organising Committee!