Call for TAS Chapter Members - EXTENDED
The term of a committee member is two years for no more than two consecutive terms (i.e. up to four years in total). The Chapter Committee offers a chance to engage with like-minded colleagues from other parts of the research management sector, build networks and to help the Chapter host occasional events to build skills and engagement within the other ARMS members. There are also opportunities to contribute more broadly across the Society through the Member Services Committee.
Nomination forms available here. Please email your completed form and contact the ARMS Executive Office arms.adminofficer@flinders.edu.au.
Click here to view the Terms of Reference.
We look forward to receiving your application.
Please note:
To ensure that your receive Tasmanian Chapter invitations and can register for chapter events you are required to link your membership to your chapter. Members are no longer automatically attached to a chapter due to geographic location. Instead, they must choose their chapter in their member portal. Instructions on how to join the chapter can be found in the ARMS Member's Portal Operational Guide.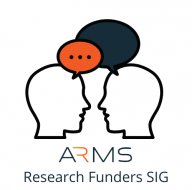 Research Funders Special Interest Group
Funding organisations vary in size and objectives; but they all play a key part in the research and innovation landscape. The ARMS Funders SIG is a platform for research managers in funding organisations to share some of the unique challenges they encounter. The SIG is looking for new convenors to liaise with the ARMS Office and other SIG members on SIG activities and networking.
If you work in the research funding environment, and are interested in convening the SIG or otherwise getting involved, please contact maria.zollo@flinders.edu.au
To find out more about the SIG,  contact Jane Jane.Hobson@nswcc.org.au or Merrilyn merrilyn.larusson@csiro.au
Click here to read more about the ARMS Research Funders SIG.
Please note:
To ensure that your receive SIG specific invitations and can register for Research Funders SIG events join the SIG through your member portal.  Instructions on how to join SIGs can be found in the ARMS Member's Portal Operational Guide.