Newsletter Schedule for 2022
| | | |
| --- | --- | --- |
| Edition No | Content Request | Distribution |
| 121 |  12 January 2022 | Week of 31 January 2022 |
| 122 |  21 February 2022 | Week of 14 March 2022 |
| 123 | 04 April 2022 | Week of 25 April 2022 |
| 124 | 16 May 2022 | Week of 06 June 2022 |
| 125 | 27 June 2022 | Week of 18 July 2022 |
| 126 | 08 August 2022 | Week of 29 August 2022 |
| 127 | 12 September 2022 | Week of 03 October 2022 |
| 128 | 24 October 2022 | Week of 14 November 2022 |
| 129 | 21 November 2022 | Week of 12 December 2022 |
Up in ARMS Newsletter - 2022 Issues
Issue 121 - January - Feburary - coming soon.
Click here to view 2021 Issues
Click here to view 2020 Issues
---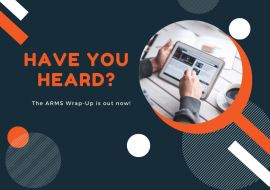 The ARMS Wrap -Up is now disseminated fortnightly to our members.
11 Feburary 2022 - coming soon. 
ARMS 2022 Conference Program Committee
We welcome our new committee who will be developing an inspiring conference program for delivery this September!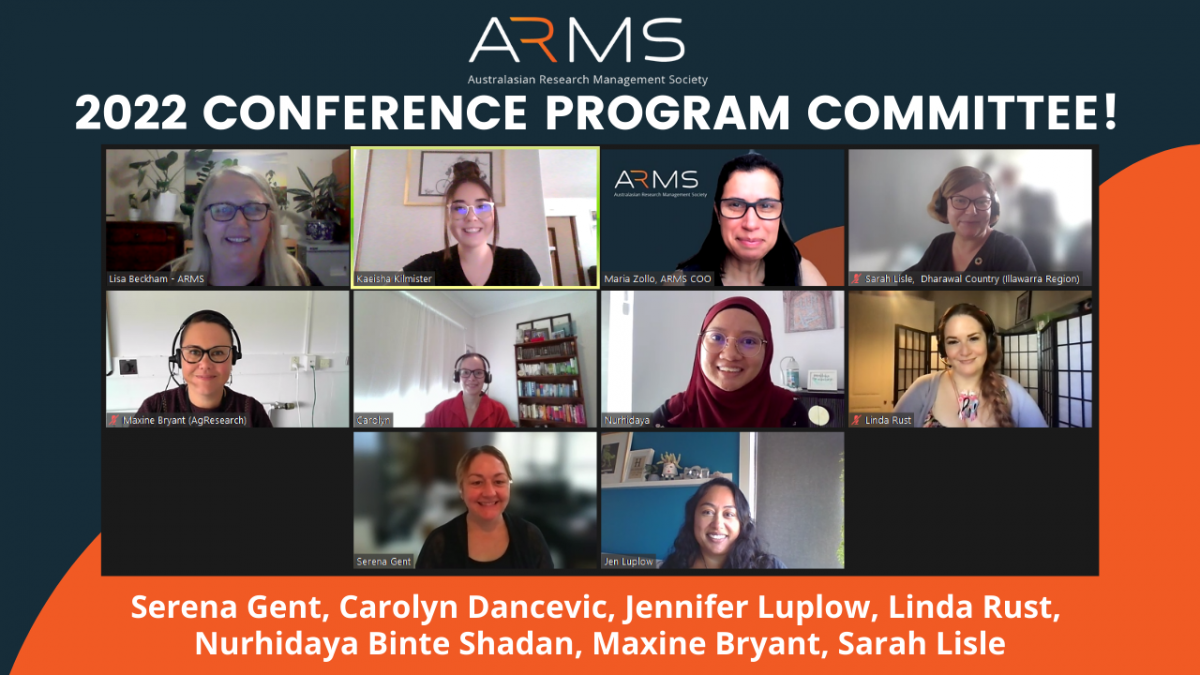 ARMS 2022 Annual Conference
Save the date! 
Watch this space, more information coming soon...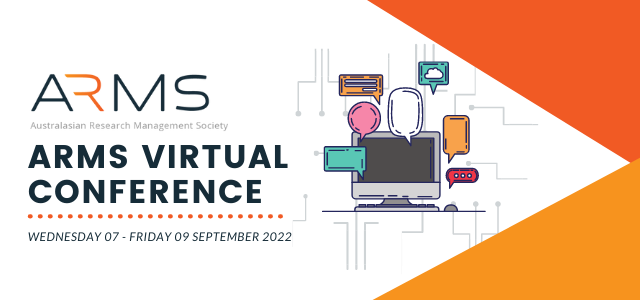 ARMS University Contracting Working Party Questionnaire – We value your input!
Through the Directors of Research Special Interest Group, the ARMS University Research Contracting Working Party was established to develop the principles, resources and frameworks that support efficient University to University contracting of research agreements.  In order to obtain a better understanding of the pain points, opportunities and best practices, the working group has designed a survey based around the Multi Institutional Agreement (MIA) as the document to bind them all.   It is anticipated that the survey results should give us some enormously beneficial insights and acuity in helping understand the issues that Research Management Professionals are facing.
Follow the link ARMS University Research Contracting Working Party: Questionnaire #1 to commence the survey.  
The ARMS University Research Contracting Working Party will, through the course of the year, move to other parts of the research contracting lifecycle but felt that this is an important starting point.
Responses from offices that get involved in the contracting process including your legal office and knowledge transfer office are encouraged. We understand that processes differ across institutions and so we have not been prescriptive. It is anticipated that some of you may wish to seek feedback from other parts of the University separate to the Research Office; those offices need only comment on the questions they feel are relevant to them.
Responses by 18 February 2022 are appreciated.
We will be happy to provide you anonymised responses particular to your organisation – while we are working across the collective, you may find it helpful to inform research management provision within your institution.
Dr Jodi Clyde-Smith on behalf of the ARMS University Research Contracting Working Party.
Announcing the Release of the Open Research Toolkit
Developed by the Open Research Working Group, comprising representatives of the Australasian Research Management Society (ARMS) and the Council of Australian University Librarians (CAUL), to support Australasian institutions to implement or further develop open research policy, strategy and practice.
Click here to read more
Call for Convenor to Lead the Research Funders Special Interest Group
Funding organisations vary in size and objectives; but they all play a key part in the research and innovation landscape. The ARMS Funders SIG is a platform for research managers in funding organisations to share some of the unique challenges they encounter. The SIG is looking for new convenors to liaise with the ARMS Office and other SIG members on SIG activities and networking.
If you work in the research funding environment, and are interested in convening the SIG or otherwise getting involved, please contact maria.zollo@flinders.edu.au
To find out more about the SIG,  contact Jane Jane.Hobson@nswcc.org.au or Merrilyn merrilyn.larusson@csiro.au
Click here to read more about the ARMS Research Funders SIG.
Call for ARMS Training Fellows to deliver two new programs
Meet the 2021 Winter School Presenters - 29 April 2021
CLOUD BASED SOFTWARE SOLUTIONS COMPANY CAYUSE PARTNERS WITH ARMS
2020 Research Impact Case Studies