INORMS 2021 - Hiroshima Statement
ARMS is proud to be part of the INORMS community that enables research excellence.  We are pleased to announce the recent release of the Hiroshima Statement at the INORMS 2021 Congress in Hiroshima, Japan.  The Statement highlights the aspirational goal of continual improvement of local, national and international research landscapes. Collegiality, inclusivity, professionalism, innovation and accountability are the principles underpinning this statement.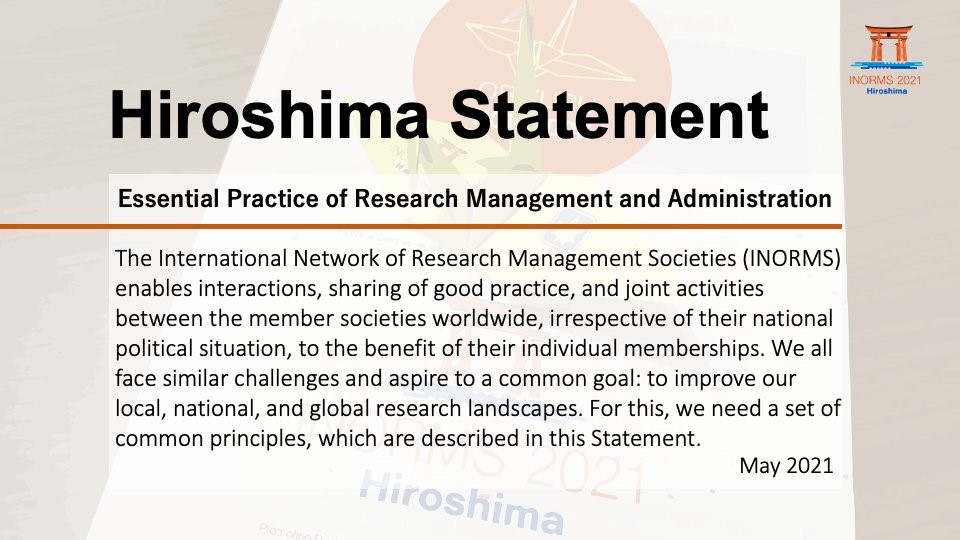 ---
INORMS Sister Association Reciprocal Benefit Strategy (ISARBS)
ARMS is pleased to be involved in the ISARBS initiative that allows members of the INORMS community of research management associations to benefit from discounted rates on certain events, publications and other products offered by other member associations.
Are you are a member of a participating ISARBS association and would like to benefit from an ISARBS discount on an ARMS event or product?
If you are a member of one of the INORMS member associations, you can secure discounted rates for most of ARMS' online offerings. You will pay the same rates as ARMS members!
full name;
email address;
employing institution;
the name of your RMA association (must be one of the participating INORMS Associations).
and, if appropriate:
your membership number/unique identifier (not all Associations have this);
names and dates of the event/webinar(s) you would like to attend.
Following this, ARMS will provide further information on how to access your discount(s), for you to then register for your event(s)/workshop etc on the ARMS website.
Remember, you need to be a current financial member of one of the above-listed associations in order to be able to benefit from the scheme. Checks will regularly be completed to verify members' identity and affiliation.
More about ISARBS
Based on an original idea from SRAI, ISARBS arose from a discussion at the INORMS Council to explore how best practice in Research Management and Administration (RMA) could be shared in an affordable manner across the world by our respective memberships. An underpinning principle of ISARBS is that members of participating INORMS associations pay the same rates as those paid by the vending association's own members.
More about INORMS
The International Network of Research Management Societies (INORMS) brings together research management societies and associations from across the globe. Its purpose is to enable interactions, share good practice, and coordinate activities between the member societies, to the benefit of their individual membership.
For further details of INORMS and its respective members, please visit the INORMS website here: www.inorms.net